Celebrating one year with Hollis Cobb, Paralegal, Ingrid Seneadza, says this is the best job she has ever had. She works in the Law Office of Brent D. Stamps, LLC to whom all Hollis Cobb legal accounts are referred. Collection managers, client services representatives and others in the legal area enjoy working with Ingrid as she is highly skilled at her job and always pleasant with a smile on her face.
Ingrid said she enjoys working with Brent Stamps and manager Roberto Garcia. "We have great communication with each other which allows us to get our work done efficiently." Ingrid has served as a paralegal for other attorneys in the Lenox Mall area of Atlanta, but was happy to make the switch to Hollis Cobb as it is five miles from her home. She said she was thrilled to find a position so close to home, and now has time to work out five days a week in the morning before coming to the office. Ingrid said the workout energizes her and gets her blood running before the day starts.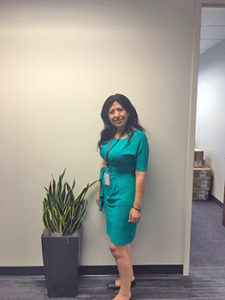 Working in a busy law office is challenging, and Ingrid is responsible for a wide variety of tasks each day. Along with handling all correspondence and payments, she requests documents from clients to support their legal accounts and prepares all entries of service, pleadings, summons, complaints, judgments and motions. Ingrid also monitors consent agreements, suit filings, skip tracing efforts and drafts and notarizes all suits, garnishments and affidavits.
Originally from Bolivia, in the heart of South America, Ingrid holds certificates in Paralegal Studies and Bilingual Interpretation from the University of Georgia. She also earned an Associate's Degree in Political Science from Georgia Perimeter College. On coming to America, Ingrid said, "I got here when I was 19 and have now been here longer than I lived in Bolivia," adding that she is approaching age 50. She said she was attracted to the United States by what she saw on television shows and movies. "I wanted to get out of my country and explore other parts of the world," she explained. Ingrid chose Georgia as her new home, because she was able to stay with relatives who lived near Stone Mountain, and this gave her time to get her education and her certifications, and then begin her work as a paralegal.
Ingrid has been happily married for 16 years to Tony Seneadza, and they have two boys, Jordan, 15 and Jared, 12 along with a beloved Chihuahua named Speedy. She met Tony while out salsa dancing, and the two still enjoy salsa dancing together today. Ingrid explained that she is of the Baha'i faith and believes in progressive revelation with the main teaching being unity in diversity. Ingrid leads classes on weekends for children in her neighborhood, teaching them about good values, virtues and morals.
There is no doubt that Ingrid will continue to be an asset to Hollis Cobb through her association with the Law Office of Brent D. Stamps. As the company continues to grow and expand the client base into other states, Ingrid's talent, skill and bilingual abilities will serve to bring success to the company and greater revenues to the clients.