In the nearly two years Afsha Carter has been with Hollis Cobb, she has become well versed in a variety of areas of revenue cycle management. Afsha serves as a Key Client Executive in the Client Services Department and works with numerous Atlanta healthcare systems as well as commercial clients out of the company's Chicago office.
DIVERSE CAREER
After graduating from Mercer University, Afsha landed a job in the Accounting Department at Home Depot's corporate office. Desiring to expand her career opportunities, Afsha went to Kennesaw State at night and earned her paralegal certification. An acquaintance at night school gave her a lead on a career move, and from there she took a job at a law firm which specialized in healthcare revenue cycle issues. "I figured I would get some experience in a law firm and then find a higher paying job in Atlanta," she said; however a decade went by fast, and she found that she had advanced as far as she could at the law firm without going back to school to become a lawyer.
Making a move to a larger international law firm in Atlanta, Afsha ended up in the Accounting Department and discovered that, "working in the city was not as glamorous as it sounded or looked like on TV." She said she did not enjoy being downtown, fighting traffic, paying for parking or depending on public transportation. After a couple of years at the law firm, Afsha took a job with a collection agency specializing in healthcare, adding new knowledge to her skill set.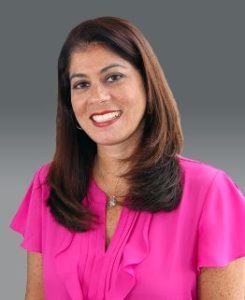 From there she was recruited by executives at Hollis Cobb who were impressed by her job experience ranging from accounting to legal to client services. Afsha says her favorite part of her job at Hollis Cobb is interacting with her co-workers, and the most challenging aspect is learning all the different responsibilities that vary greatly based on each client's individual needs. She has proved to be a tremendous asset to the company's Client Services Department with both her diverse industry knowledge and bubbly personality.
WORLD TRAVELER
Listening to Afsha talk about her travels is fascinating. Striving to satisfy her wanderlust, she has visited five continents, and has made it her goal in life to make it to the last two – Africa and Australia. Some of her most exciting trips include a cruise of Southeast Asia in 2010 where she saw Beijing, the Great Wall, Tiananmen Square and the Forbidden City along with Shanghai, Okinawa, Hong Kong, Taiwan, Vietnam, Singapore and Bangkok. Later that same year she spent a week in Paris visiting all the museums and seeing the Mona Lisa, which she said, "was actually much smaller than I expected." While in Paris, Afsha also ate dinner at Le Jules Verne, the restaurant located in the Eiffel Tower.
The next year, she took a 16-day cruise to Antarctica visiting Glacier Alley, seeing penguins at the Falkland Islands, sailing through Cape Horn and stopping in Ushuaia which is the southernmost tip of the world. Her Arctic cruise actually started in Buenos Aires, Argentina and ended in Santiago, Chile, so she was able to see some exciting sites in South America as well. Afsha's most recent trip was a Mediterranean Cruise where she visited many historic cities including Barcelona, Florence, Pisa, Rome, Kotor Croatia, Venice, Nice, Monte Carlo, Capris, Sorrento and Pompeii. A cruise lover, she has also taken a number of trips to islands in the Caribbean.
DAWGS AND CRAFTS 
A dedicated Georgia Bulldog fan, Afsha never misses a game, whether screaming at Sanford Stadium or at her television set at home. "I enjoy watching football with family and friends," she said, adding, "Go Dawgs!" Afsha also enjoys crafting and prides herself in being able to monogram just about anything with her trusty Cricket. Her favorite projects involve making crafts that include the Georgia Bulldog logo, thus combining two of her passions.
Afsha lives in Douglasville with her husband and children. She travels to client offices every week as well as Hollis Cobb's corporate office in Duluth. As the company continues to grow and expand its client base, Afsha's unique set of skills will continue to benefit her clients and co-workers. All have faith that she will eventually make it to Africa and Australia, and cannot wait to hear the stories.