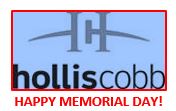 Monday we celebrate the nation's 150th Memorial Day. The national holiday was originally created to honor the 620,000 soldiers who perished during the Civil War. Now we recognize all fallen American soldiers throughout history. It is customary to fly U.S. flags at half-staff on Memorial Day, and raise the flag to the top of the staff at sunset.
The first Memorial Day celebration was presided over by President Ulysses S. Grant on May 30, 1868 at Arlington National Cemetery. Prior to 1864, the national cemetery was part of General Robert E. Lee's Virginia land holdings. Over 5,000 people attended the first Memorial Day celebration where the featured speaker was Civil War General James A. Garfield, a United States Congressman from Ohio and future president.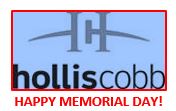 On May 30th, 1922, the 54th Memorial Day, the Lincoln Memorial was dedicated on the Mall in Washington D.C. Supreme Court Chief Justice and former President, William Howard Taft dedicated the new monument before a crowd of 50,000 spectators which included Civil War veterans and President Abraham Lincoln's last surviving son, Robert Todd Lincoln.
On the 120th Memorial Day celebration in 1988, 2,500 motorcyclists rode to Washington D.C. for the first Rolling Thunder rally created to recognize Vietnam War soldiers still missing in action. Today over a half million motorcyclists take part in the Rolling Thunder rally at the nation's capital on Memorial Day weekend.
On this, the 150th Memorial Day weekend, Hollis Cobb would like to wish everyone a safe holiday as we take a moment to remember the many fallen soldiers who have fought bravely for our country down through the ages.