Dedicated to supporting the healthcare community in Georgia, Hollis Cobb Associates participated again this year in The Navicent Charity Classic in Macon, Georgia. The Classic is the premier fundraiser for the Children's Hospital Navicent Health. This year, proceeds from the charity classic will go toward the purchase of state-of-the-art medical equipment for the hospital's new Autism Center.
As the diagnosis of autism has increased nationwide, support is vital for children and families facing the challenges of living with Autism Spectrum Disorders (ASD). The Autism Center at Children's Hospital Navicent Health is a premier comprehensive center, and the only one of its kind in the Central Georgia area.
The children's hospital in Macon is the only dedicated children's hospital south of Atlanta, all the way to Gainesville, Florida, serving 29 counties in both states. The hospital is committed to providing the best possible healthcare close to home for children in Central and South Georgia as well as North Florida. Hollis Cobb Associates is proud to support the hospital's continuing efforts to grow and offer more services to area children.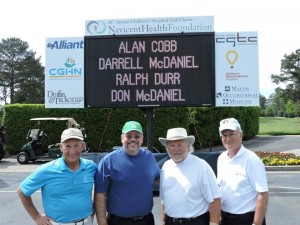 Hollis Cobb Chairman, Alan Cobb (L), played golf  in the
Navicent Charity Classic to benefit Children's Hospital Navicent
Health on April 11 with some of our Macon clients from L to R,
Darrell McDaniel, Don McDaniel and Ralph Durr.