With the recent acquisition of Massachusetts-based Gragil Associates and Audit Billing Center, Inc., Hollis Cobb has gained a talented I.T. manager in Dan Wooster. A Boston native, Dan moved around with his family as a child, landing back in the Boston area for high school and college where he earned a Bachelor's Degree in History from Eastern Nazarene College.
Dan has been with Gragil for 13 years and describes his main focus as "bridging the gaps between I.T., Operations and clients with some of the biggest responsibilities being new client implementations and system conversions."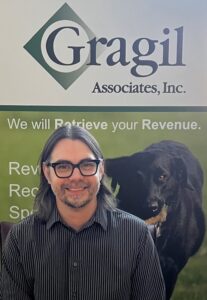 He began his career right out of college as a collector. From there he moved on to become a trainer and eventually transitioned into the Client Services area. Later Dan moved into a position with the I.T. help desk where he was a liaison between Gragil's technology team and the clients. Dan's variety of experience in the healthcare revenue cycle arena has served him well in his current position as I.T. Manager, helping him to understand the changing technological needs both internally and among the clients Gragil serves.
Of the daily challenges he faces, Dan said, "every client environment is different and having to work within the ever-changing landscape of technology can be a challenge." He cited some of his most recent challenges as Covid-19, Regulation F, PCI laws and staff moving to remote work environments. "It's always challenging, but it's never boring," Dan commented, noting that the fact that his job is never the same on any given day is what he likes best.
"I am very happy with the changes since the acquisition," Dan said, explaining that previously most technology decisions and work were left up to him, but now he has many additional resources and an I.T. Team to go to for consultation and assistance when needed. "I love the Hollis Cobb company culture. The team really helps each other out," he said.
When not managing his I.T. responsibilities at Gragil, Dan enjoys gardening, fishing, fixing things around his house and spending time with his 15-year-old daughter. And of course, he is a huge fan of everything related to Boston sports keeping up with and cheering on the Patriots, Red Sox, Bruins and Celtics.
Skilled I.T. professionals in the healthcare finance world are tough to find, and Hollis Cobb is very fortunate and pleased to have Dan on the team.