In an effort to be more environmentally friendly, Hollis Cobb Associates is in the process of moving our client remittances to a paperless environment. After many months of programming and testing, we have rolled out our web-based secure client statement portal. Statements and invoices will be ready for our clients to view and download by the 8th of each month via the portal. Each client has been assigned a login and password to access their statements and invoices on the portal.
In conjunction with the new portal, all clients are being moved to a direct deposit process so that we can further our efforts to be more environmentally friendly by eliminating the mailing of paper checks. So far, our clients are loving the new process. They receive the money collected on their accounts earlier in the month, and can view or download their statements for posting at their convenience.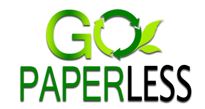 According to statistics compiled by the U. S. Environmental Protection Agency (EPA), Americans discard enough wood and paper each year to heat 50 million homes for 20 years. Approximately 1 billion trees worth of paper are thrown away every year in the U. S.
The EPA stats show that Americans use about 85 million tons of paper each year which comes out to about 680 pounds of paper per person. These statistics are staggering and emphasize the need for companies to put forth efforts to reduce the use of paper in daily work activities.
Along with shredding documents for compliance, Hollis Cobb recycles other items used in our offices such as printer cartridges and corrugated boxes. We are committed to reducing our environmental footprint with programs like the implementation of our client statement portal and direct deposit process. Paperless client files are currently transmitted electronically through secure FTPs, and our leadership continues to look for ways to use technology rather than paper to share information with our clients while reducing the impact we have on our environment.