Hollis Cobb Key Client Executive, Donna Fincher, never thought she would be involved with all manner of wildlife until her animal-loving youngest child, Elizabeth, came along. From almost the beginning, Donna had to get used to frogs, lizards and other creatures roaming the house.
Today, Elizabeth Fincher Bragdon is a Keeper and the Education and Volunteer Coordinator at the Yellow River Wildlife Sanctuary, and her husband, Logan Bragdon, is a Keeper and Director of the Zoo Crew.
Donna and her husband, John, volunteer every other weekend at Yellow River. They interact with the guests visiting the sanctuary, answer questions and provide some education on the various animals who make the wildlife sanctuary their home. Donna has come to cherish all of the animals that are so precious to her daughter and son-in-law.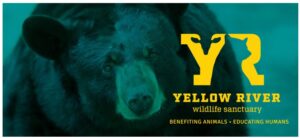 Yellow River Wildlife Sanctuary is located in Lilburn, Georgia close to Stone Mountain. It is home to a variety of animals that have been injured and rehabilitated, but would no longer be able to survive in the wild. The Department of Natural Resources (DNR) contacts Yellow River from time to time with an animal that needs to be rehomed. The most recent addition to the sanctuary is a bear cub named Bluebeary.
The sanctuary is situated in a heavily wooded area adjacent to the Yellow River. Re-homed animals, living in habitats created especially for their species, include deer, bears, llamas, several species of critically endangered lemurs, turtles, spider monkeys, coyotes, foxes, bison, raccoons, opossums, wallabies and ducks. There is a Eurasian lynx and a serval as well as a petting barnyard with goats, pigs, cows and donkeys along with numerous peacocks and a turkey, named Hank, roaming free.
Right now the Yellow River team is constructing a new habitat, and have given the public some input as to which animal to locate there from a DNR list of animals currently needing homes. The public can visit the website to vote on lions, brown bears, wolves, cheetahs or mountain lions. Donna and her family have voted for wolves.
The Yellow River Wildlife Sanctuary is open to the public Wednesday through Sunday. The staff is always looking for more volunteers. For more information about voting for the animal needing a home, booking a visit, a "Walk on the Wild Side" behind-the-scenes tour or becoming a volunteer, visit  https://yellowriverwildlifesanctuary.com/