Our clients often ask us what fuels our success, and many times one of the answers to that question is the training of our staff. We have a department of highly skilled trainers who keep training curriculum updated with any changes in laws or industry standards, as well as client and internal requirements. All staff are required to participate in continuing education, and pass tests, in order to remain current on changes in regulations governing our industry, and updated policies implemented at Hollis Cobb.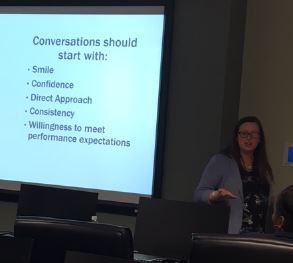 We share our specialized training with our clients from time to time in the form of sessions scheduled onsite at client facilities. Our Director of Training and Quality Assurance, Wendy Kukla, typically leads these training sessions using material customized for each client. Managers at our clients' offices communicate what they consider to be areas in which their staff could improve or learn to excel, and Wendy develops a customized training program to address each client's concerns.
Among the training requests commonly received from clients are point of service collections and telephone collection techniques. With today's shrinking reimbursements, the earlier in the revenue cycle patient liabilities can be collected, the better the bottom line is for hospitals. When developing a training session for a client, Wendy discusses with client managers their pain points and goals for their departments.
The topics addressed include:
Successful telephone collection techniques
HIPAA overview
Helping patients discover payment resources
Recovering patients estimated responsibility at all collection points; pre-registration, scheduling, during service, discharge or follow up
Overcoming patient objections for non-payment
Other topics are covered as well based on client input.
Our clients have told us that our training sessions have motivated their teams, and helped them break barriers and reach challenging collection goals. Hollis Cobb's client training program is part of our commitment to exceed expectations for our clients and outperform our competition. Wendy enjoys her interaction with our clients during these training sessions, and frequently learns something new as well that she can add to future training programs.