Hollis Cobb is pleased to support healthcare financial management professionals nationwide and is serving as a corporate sponsor for Central Ohio Patient Accounts Managers (COPAM). As our service offerings have expanded, so has our support of and participation in a variety of healthcare professional organizations.
On September 21, Hollis Cobb's Director of Training and Compliance, Wendy Kukla, will present at COPAM's Virtual Education Session. As Covid cases are on the rise, COPAM has elected to offer more virtual education for members in an effort to continue to supply ongoing educational opportunities in a safe environment.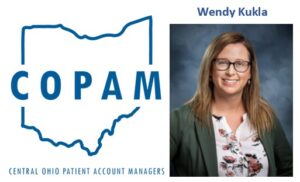 Wendy will discuss the timely topic, "Enhanced Collection Techniques for Providers Facing Covid-19 Challenges." Her presentation will begin at 10am ET and she will be followed by UCB's Chief Compliance Officer who will talk about the CFPB's Model B-1 Validation Notice. Anyone can register for these free educational sessions here:
Wendy Kukla has worked in the healthcare revenue cycle industry for 18 years. In her position at Hollis Cobb, Wendy is responsible for creating and maintaining  the corporate and regulatory training efforts for the company, while promoting an organizational culture that encourages ethical and proper conduct in a commitment to compliance. She develops and oversees the quarterly HIPAA and compliance testing required of all Hollis Cobb managers and staff, and provides onsite, value-added collection, customer service and compliance training for clients.