In the 40 years Hollis Cobb Associates has been in business, we have experienced tremendous growth, and are once again hosting a career fair at our corporate office located at 3175 Satellite Blvd., Building 600, Suite 400 Duluth, Georgia. Scheduled for 1:00 p.m. – 7:00 p.m. on August 30, our recruiters will be looking for insurance billers in healthcare, insurance follow-up representatives, collection managers, healthcare collectors and onsite customer service representatives at a downtown Atlanta location. Immediate positions are available within our expanding company with opportunities for career growth.
All who wish to participate in the Career Fair should dress for success, bring copies of resumes as well as professional services and be prepared to interview with hiring managers. The company provides training and offers benefits including medical, dental and life insurance, long and short-term disability, matching 401K, competitive bonus program, paid time off and NO weekend work.
Basic requirements for employment include:
High School diploma or equivalent
Able to pass pre-employment background/testing including a typing test
Extremely reliable – prompt with time and attendance
Professional language and grammer usage
Strong multi-tasking skills with ability to handle a high call volume.
Experience in a healthcare revenue cycle or collections is a plus!
For best results, attendees should sign up on Paycom prior to the career fair by clicking this link:
Hollis Cobb Career Fair August 30 2017
Current employees are eligible to participate in the Enhanced Employee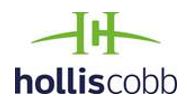 Referral Program. Pass the information about this Career Fair on to friends, family, neighbors and colleagues, and become eligible for prizes including:
$25 gift card if employment offer is made to a referral;
$250 gift card once the new employee hits the 60 day mark;
$250 gift card when the new employee hits 120 days of continuous employment
Hollis Cobb employees are encouraged to let the Human Resources Department know about any talented candidates with the right skill sets who are seeking excellent employment opportunities. For a full list of available job descriptions visit ZipRecruiter:
https://www.ziprecruiter.com/candidate/search?search=Hollis+Cobb+Associates&location=Duluth%2C+GA