Hollis Cobb collector, Jasmine Denton, has been working hard to make this Saturday's LIFE Kids Back to School Bash and Giveaway Concert a great success. Designed to provide back to school supplies to underprivileged children, this year's event will also include educational seminars for parents along with some fun activities for kids. Scheduled for 12:00 noon to 3:00 p.m. on Saturday, August 12, the LIFE Kids event will be held at the Adamsville Recreation Center located at 3201 MLK Drive in Atlanta. Students will receive backpacks filled with age-appropriate school supplies on a first come – first served basis.
There will be a bouncy house, a live DJ and additional prizes for the kids. In addition, the parents can benefit from educational sessions including topics on:
Home Buying (how to qualify)
Obtaining Down Payment Assistance
Credit Counseling (improving and correcting credit scores)
Rent 2 Own Program to help families become homeowners.
Local singers and celebrities will also be on hand to entertain both parents and children. Individuals and companies who would like to make contributions onsite this Saturday may stop by the event to make their donations.
Hollis Cobb staff members have been bringing school supplies and monetary donations to the office for the past few weeks to help Jasmine with this project. She is passionate about her volunteer work with underprivileged children explaining that her attitude has been changed through her work with families facing financial crisis. "Working with the LIFE Kids organization has been both a motivating and humbling experience, and it has changed my perspective," she said. Jasmine went on to point out that "being uneducated is dangerous. There are many reasons that families need financial help."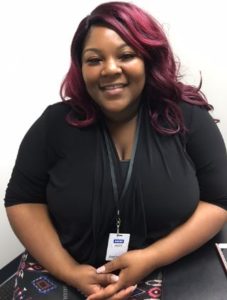 In her quest to help struggling families get back on their feet and off public assistance, Jasmine teamed up with World Star Hit Radio and Monei Sutton "to help bring something positive to the city." Jasmine noted that, "Public assistance was never meant to be a permanent solution," adding that some families just need some help to be able to support themselves. Her goal is to help parents obtain stable employment and become homeowners, help children get good educations and break the cycle of poverty for these often forgotten families.
Jasmine explained that this Saturday's event is open to the public and not limited to residents of any particular area of Atlanta. Last year, LIFE Kids distributed 716 back packs filled with school supplies, and organizers hope to exceed that number this year. Some local businesses will also be providing snacks and gift bags for those who attend the event. At last count LIFE Kids had $5,000 in supplies ready to distribute. The LIFE Kids organization also does other work to assist struggling families throughout the year including providing Thanksgiving dinners and Christmas gifts for children and their parents.
Originally from Memphis, Tennessee, Jasmine moved to Atlanta with her family when she was in high school. She went on to earn her Bachelor of Science degree from Albany State University. Jasmine began working with Hollis Cobb three years ago in the customer service department, and has progressed to the collection department. She stresses that in everything she does, she tries to adhere to the LIFE Kids motto: "The way we continue to receive blessings is by being a blessing to others."