As Hollis Cobb's front-end Patient Access Department continues to grow and expand, two team leads who have exceled in their work, have been promoted to Operational Managers.
NATALIE ROJAS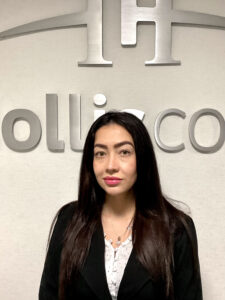 Natalie Rojas, who has been with Hollis Cobb for 5 years, has been promoted to Operational Manager in the Patient Access area. Natalie stays busy each day providing job specific training for new employees on her team. She monitors all work queues for her staff, reviewing pending accounts for timeliness and accuracy. She reviews any denials with the goal of getting them overturned as quickly as possible, reviews and prioritizes her team's workload and communicates daily with the client she represents.
Goals and Challenges
Natalie said, "In my new role my goal is to motivate and uplift my agents to become confident and completely knowledgeable within their assignments. My goal is for my team to work independently and have the ability to resolve issues on their own in order to be successful," she said, adding that, "It is very important to me to motivate my team to reach company goals and maintain company standards and policies."
Natalie said she finds her work interesting and challenging. "I have always had a passion for helping people, as well as learning and challenging myself." When she began working in the area of pre-certification, Natalie said she found she had a talent for interpreting medical terminology and clinical information. "It is surprising what one can achieve with the unlimited resources Hollis Cobb provides," she commented.
Natalie has her Certified Healthcare Access Associate (CHAA) designation through the National Association of Healthcare Access Management (NAHAM) as well as her Certified Patient Account Representative (CPAR) certification through the Healthcare Financial Management Association (HFMA). She has plans to continue to further her healthcare education.
How It All Began
Natalie started off in cardiology pre-certification and later joined the Emory Radiology team. "My family experiences helped guide me in the new specialty we took on at Hollis Cobb," she noted, going on to say that it pleases her to "obtain approvals for medically ill cancer patients through their treatment, and to overturn denials for complicated cases."
An Atlanta native, Natalie began her healthcare career at a pediatric/family practice. This first job in the industry sparked her interest and lead her to seek more challenging endeavors in the medical field.
The Journey Continues
Natalie went on to say, "I have enjoyed this journey at Hollis Cobb so far and appreciate all the amazing opportunities I am blessed with at the company. I am grateful to have been given the opportunity to show off my skill sets and hope it makes a positive impact on those I come across. I couldn't have asked for a better team. It's great to have managers like Steven Hecht and Clarence Whitfield in our department who are able to provide guidance when it is needed."
When not leading her pre-certification team, Natalie spends most of her time with her 9-year-old son who, she said, is the motivation for everything she does.
The leadership team at Hollis Cobb is impressed with Natalie's energy and hard work, and expects great things from her in the coming years.
JESMIN PATEL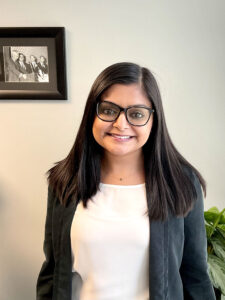 After excelling in her Patient Access work at Hollis Cobb for the past 4 years, Jesmin Patel has been promoted to Operational Manager. As client needs in the area of Patient Access have grown rapidly, Hollis Cobb has expanded service offerings to meet those needs, and Jesmin's experience and excellent work record made her an obvious choice for promotion. Her skills and expertise include extensive health insurance and precertification knowledge, account resolutions, and training employees on the client process.
Goals in the New Role
In her new role, she manages the operations of a team of pre-certification agents in over ten different specialties for Emory Healthcare. Jesmin focuses on helping the agents develop their productivity, accuracy and expertise in pre-certification. Jesmin also ensures all accounts are updated in a timely manner, communicates with the client to ensure quality of service and conducts audits on work performed by the agents on her team. "I strive to push my team to the best of their ability with a hands on approach," she said.
"My goal is to consistently meet client satisfaction by resolving all issues and concerns efficiently," she commented. Jesmin went on to say, "One of the reasons I like working at Hollis Cobb is because I have a good team. Whatever obstacles my team may come across, they will continue to get the job done to ensure we are meeting client expectations."
How it All Began
Born and raised in a small town in Middle Tennessee, Jesmin moved to Atlanta to pursue better opportunities in the healthcare field. She has been in Atlanta for 7 years now. She began as an office administrator at a primary care practice and moved on to join the Hollis Cobb Patient Access Department.
Jesmin went on to comment about her work in her new role, "I like the challenge of helping the agents understand and provide guidance on specific account related issues or concerns. I like to push them to their full potential and help them to develop new skills within the team."
Education and Certifications
Jesmin holds a Bachelor of Science in Community and Public Health, an MBA with a concentration in Healthcare Management and is also a Certified Medical Billing Professional. Jesmin recently earned her Certified Patient Account Representative (CPAR) certification through the Healthcare Financial Management Association.
When Jesmin is not leading her team in Patient Access, she enjoys cooking, spending time with family, and watching her favorite football team, the Tennessee Titans.
Hollis Cobb's management team looks forward to supporting Jesmin as she grows in her leadership skills and continues to help her team exceed their clients' goals in their performance.