Kristen Devine has proven herself to be a great asset to Hollis Cobb following the acquisition of Gragil Associates. An 18-year veteran at Gragil, Kristen serves as a Project Manager working with some of the company's largest clients. After having done such a tremendous job with Gragil's client, Cambridge Health Alliance, Hollis Cobb COO, Floyd Lawson, assigned her to manage an insurance project for Penn Medicine, part of the University of Pennsylvania Health System.
"It is so important to build relationships and trust with clients, and that's what I strive to do," Kristen said. She explained how she works with her staff noting that, "I am hands on with my team. I jump in and help them with claims when the volume is heavy." Kristen's enthusiasm is contagious. She commented that she actually works better in chaos, and what better way to describe healthcare finance today. "Each client is different," she said, "but that's okay because I really, really love my job."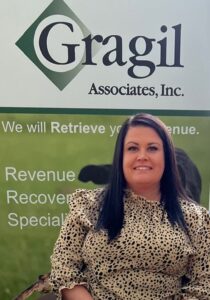 One could say Kristen was born to be on the Gragil team. Her mother worked at Gragil for 35 years managing the self-pay collection department. Kristen started working part-time at Gragil when she was still in high school. She loved working at Gragil and began full-time right out of high school, excelling due to her strong work ethic and willingness to help others in the company.
"Whatever you need me to do, I'll do it," she noted. This attitude resulted in multiple promotions in the company from entry level to the training department to her current position as project manager. Always looking for ways to improve, Kristen plans to work toward and obtain her coding certification which will help her as she continues to manage complex insurance projects.
As with many others who work in the healthcare revenue cycle world today, Kristen's biggest challenge is time, along with helping clients with process improvement and increasing overall efficiency. "The relationships I have built with the clients are what I like best about my job, and the staff – I have a really great group of people," Kristen said. "Working as a team is so important, and making sure the staff is fully trained on all duties at all times, but I just really have an exceptional group of people," she said.
Of the changes that have taken place since Hollis Cobb's acquisition, Kristen said, "I do love the atmosphere at Hollis Cobb. I love the way the Hollis Cobb team interacts with each other and there is laughter!" she said. "It's just nice to see that the Hollis Cobb people are friends outside of work," she added.
Kristen lives in the Boston area with her husband, 9-year-old daughter and 6-year-old son. "All of my free time is devoted to them," she said. The entire Hollis Cobb team has enjoyed working with Kristen, and is excited to see where her talents will take her.