Hollis Cobb has acquired multiple companies over the last decade, and with these acquisitions has inherited some excellent employees who, not only survived their company's acquisitions, but continued to thrive in Hollis Cobb's fast-paced but family-oriented environment.
One such employee is collector, Jessica Cox. Her strong work ethic and team player mentality has made her a tremendous asset to Hollis Cobb's collection staff. Coming to the company through the 2013 acquisition of Diversified Account Systems, Jessica has excelled in her position, meeting or exceeding her team goals almost every month since joining Hollis Cobb.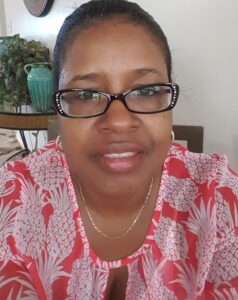 "I want the company to prosper," she explained, adding that, "this is not just a job to me." Jessica noted that her transition to Hollis Cobb's processes was a great experience, stating that the account scrubs, skiptracing processes and the way accounts are segmented made her job easier. "You put in the work and you see the benefit," Jessica said, adding that the higher level of technology and the more advanced phone system helped her perform her job more efficiently and contributed to her success with the company.
Jessica started her career in healthcare right after earning her degree in Medical Assisting. She worked with patients in a cardiologist's office for a short time before returning to school to become a certified Medical Biller and Coder. She continued to work as an Insurance Specialist for an Atlanta cardiologist for nine years after earning her certification, explaining that she enjoyed working to get denials overturned and obtaining payment for her employer.
After Jessica and her husband and children moved to a more rural area south of Atlanta, Jessica changed jobs and became a medical collector at Diversified Account Systems. She worked there for two years before staying home with her children for a decade and running an at-home daycare. Once her children were older, Jessica returned to her collector job shortly before the Hollis Cobb acquisition.
"When change comes, I can adapt," Jessica commented on her career in healthcare. She explained that the commute to Hollis Cobb's North Atlanta office has been her biggest challenge, and she has welcomed the more recent remote, work-from-home options the company is offering to employees who are able to maintain high levels of productivity in a remote environment. One of the best aspects of her job, Jessica said, is calming down patients who may be upset. "I pour water on the fire," she said, helping patients understand their bills and set up reasonable payment plans.
When not working with patients on behalf of Hollis Cobb's healthcare clients, Jessica spends time playing tennis, reading and working in the children's ministry at her church. "I love my family," Jessica said of her husband, three grown children and three grandchildren, adding that she "loves being a grandparent because it is parenting without the stress.
The leadership at Hollis Cobb is proud of the way Jessica has thrived since her previous company's acquisition, and the skill, professionalism and dedication she has brought to her position at Hollis Cobb.