It has been more than two years, but the Hollis Cobb dogs are back. Stop by our booth P3 at the HFMA Region 5 Southeastern Summit in Nashville to see some adorable puppies and consider giving a donation or even adopting.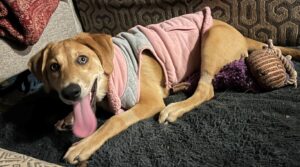 The opening night of the conference, Sunday, April 3, puppies from Big Fluffy Dog Rescue will be on hand at the booth from 4pm – 6:30pm for guests to pet and hold. More information about the mission of Big Fluffy Dog, and their dedication to rescuing precious canine in their area can be found at https://bigfluffydogs.com/.
To close out the conference on Tuesday, April 5, the dog lovers of Hollis Cobb will feature dogs from SAFPAW Outreach and Animal Rescue at the booth from 4pm – 6:30pm. Guests are encouraged to come by and play with the dogs before heading out to dinner. To learn more about SAFPAW and their commitment to providing homes for dogs in need across the U.S. visit https://soarnash.org/.
The Hollis Cobb team will also be giving out toy dogs and portable water bowls to their pet loving colleagues who visit the booth. We are looking forward to seeing our HFMA friends!